---
Your luxury travel agency in Italy
Venetica Tours designs unique and memorable travel experiences tailored just for you. You'll see many beautiful places, but that's not all. With us you'll get to really know the local culture and share many wonderful and unique experiences, fully immersing yourself in the wonders of the Veneto Region of Italy.
With Venetica Tours you'll be shown the true Veneto. With an impressive selection of hidden gems and magical off the beaten track places to discover, you'll enjoy an intimate view of this idyllic region. From sublime Venice to the magnificent Dolomites, from ancient olive groves and quaint family-run wineries to grand Palladian villas, you'll encounter an Italy that will mesmerize. Of course, no vacation in Italy would be complete without some culinary adventures. You'll have the opportunity to sample many mouth-watering local dishes and taste delicious wines during your tour.
Thanks to our many years of designing exclusive tours in Italy, meticulous planning and outstanding local knowledge, you'll feel carefree and relaxed, knowing that you are in safe hands. What's more, with our large fleet of chauffeur-driven cars, you'll travel in style and comfort, always arriving refreshed at your destination.
Venetica Tours is owned and managed by Federica Argentin together with her experienced team of professionals. An energetic and passionate travel designer, who oversees every detail of the travel planning. Federica accompanies you on your tour, bringing her vast knowledge of the Veneto and its culture together with her love for Italian cooking and fine wine.
Your vacation of a lifetime is waiting for you.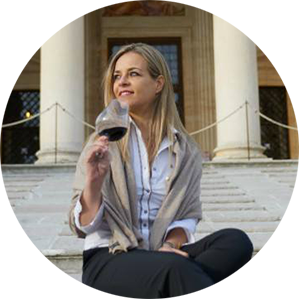 We found your knowledge, company and professionalism to be beyond reproach. I believe Asolo is the nicest place that I have visited in all my travels, and I intend to come back again and again.

So many thanks for superb guiding whilst we were in Asolo and its environs together with you. You made the entire trip just extremely pleasant. We thoroughly enjoyed each and every tasting and your restaurant choices were perfect.

Federica was a wonderful host and look forward to going back to use her services again. She's the best.

Thank you again for an awesome time!

I am desperate to come back to Venice! Lots of thanks for making our holiday so special.

The holiday was terrific, thanks again!

The organization was perfect, your recommendation for the restaurants was excellent. The tour in the winery left a strong impression, great selection!!

Our trip to the Veneto amazing and fun and interesting and……perfect!

A huge thank you for contributing to our wonderful time in Venice!!! We so enjoyed our time with you & our friends, celebrating Stephen's birthday.

I wanted to let you know that we had a wonderful time on yesterday's Padova tour. The guide gave us a wonderful overview of Padova and we also enjoyed seeing the Scrovegni chapel. Thanks also for your excellent tour on Tuesday of the architectural sites around Asolo. We enjoyed the chance to meet you and to hear your narration about these places.